Ombre was a popular dye technique for fabrics through the ages but it's now a trendy coloring you can find on anything from nails, to cakes, to dresser drawers, to hair dye and so much more. If you have a Pinterest account, you know how popular this dip-dyed color effect is in the craft and fashion world!
This is a bracelet you can whip up in less than an hour. Loving the feather, right? It's new from Vintaj and makes the perfect cuff for a bracelet.
Supplies:
Tail Feather Pendant -
Vintaj
5 Ombre Feather Disk Beads -
Humblebeads
Bronze Bird Clasp - Green Girl Studios
Large brass chain -
Vintaj
4 5mm brass jump rings
5 1" brass eyepins
Vintaj Patina Paints: Quartz, Opalite, Cobalt & Aged Bronze
Paint brush & a small plastic lid for a paint palette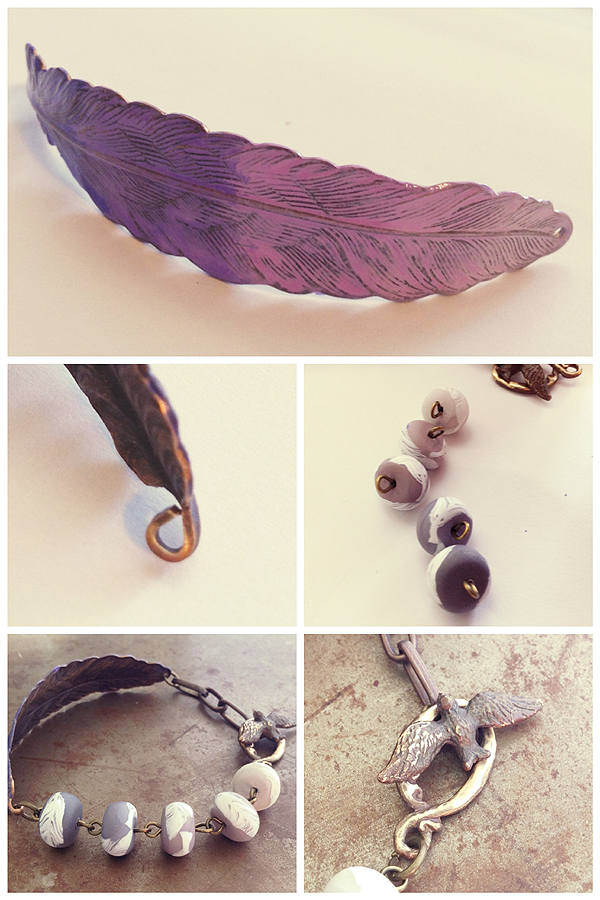 Directions:
1. Bend the feather with your hands to form a curved cuff, slow and gentle will give you the best results.
2. Paint the feather. Start with quartz, then opalite and cobalt. Let the paint dry for a few moments and then do a light coat of aged bronze. Apply sealant and wax.
3. Use round pliers to form a loop with the end of the feather.
4. Create links with the eyepins and disk beads.
5. Attach the links together with chain nose pliers, opening and closing the links.
6. Attach the links to the feather with a jump ring.
7. Use a jump ring to attach 3 links of the chain to the other side of the feather.
8. Use jump rings to attach the bird toggle clasp to the chain and links.
To see more Ombre samples visit my new blog:
Ombre Feather Bracelet Tutorial